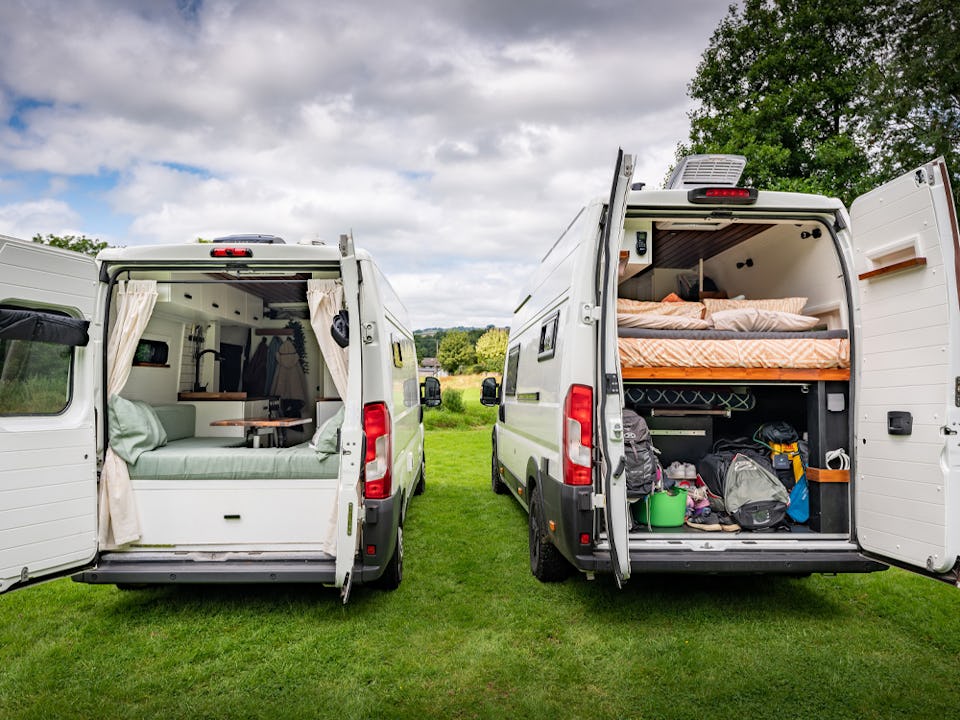 Fixed bed vs dinette van layouts
When it comes to planning your van conversion or motorhome there are lots of options when it comes to layouts. One of the biggest choices is often the bed and dining area. Hopefully, this content will help you make a decision on whether you want a fixed bed or convertible dinette layout. Read on to understand some of the advantages and disadvantages of each layout and what the differences are.
Fixed beds refer to beds that are permanently fixed in place and do not convert between a sleeping and bed system. Dinette layouts refer to a seating area that can be used during the day for socialising, eating, and working which then converts into a bed for sleeping. There are other convertible/hybrid options but we'll just be focussing on these main two.
Let's take a look at the two vans being featured:
On the left we have Seb, a Citreon Relay L3 H2 which is owned by our friends Bianca and Giulio. Seb features a U shape dinette layout.
On the right is our van Biggie Small, a Peugeot Boxer L4 H3 which features a large fixed bed with a high garage underneath.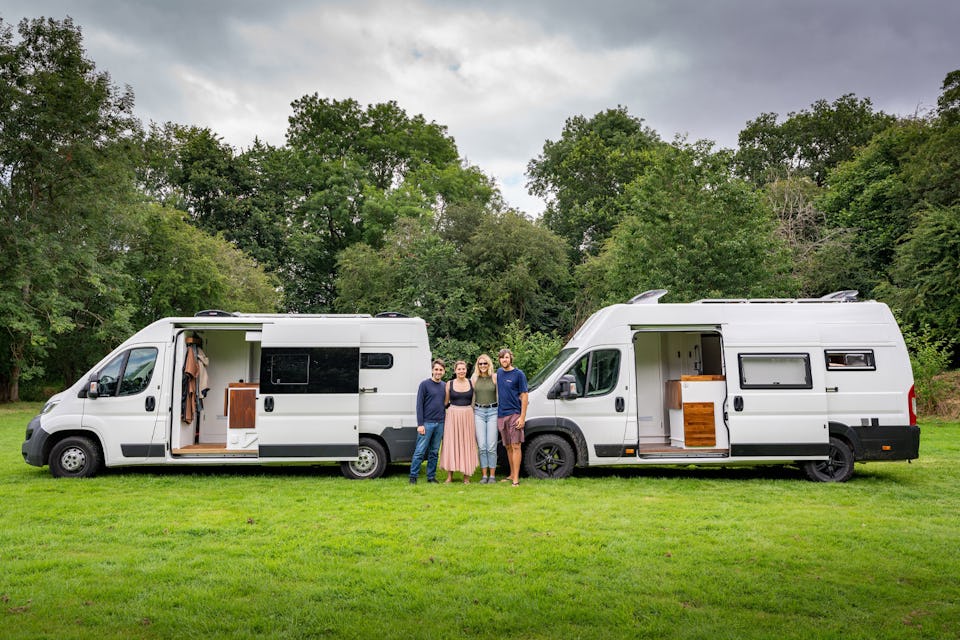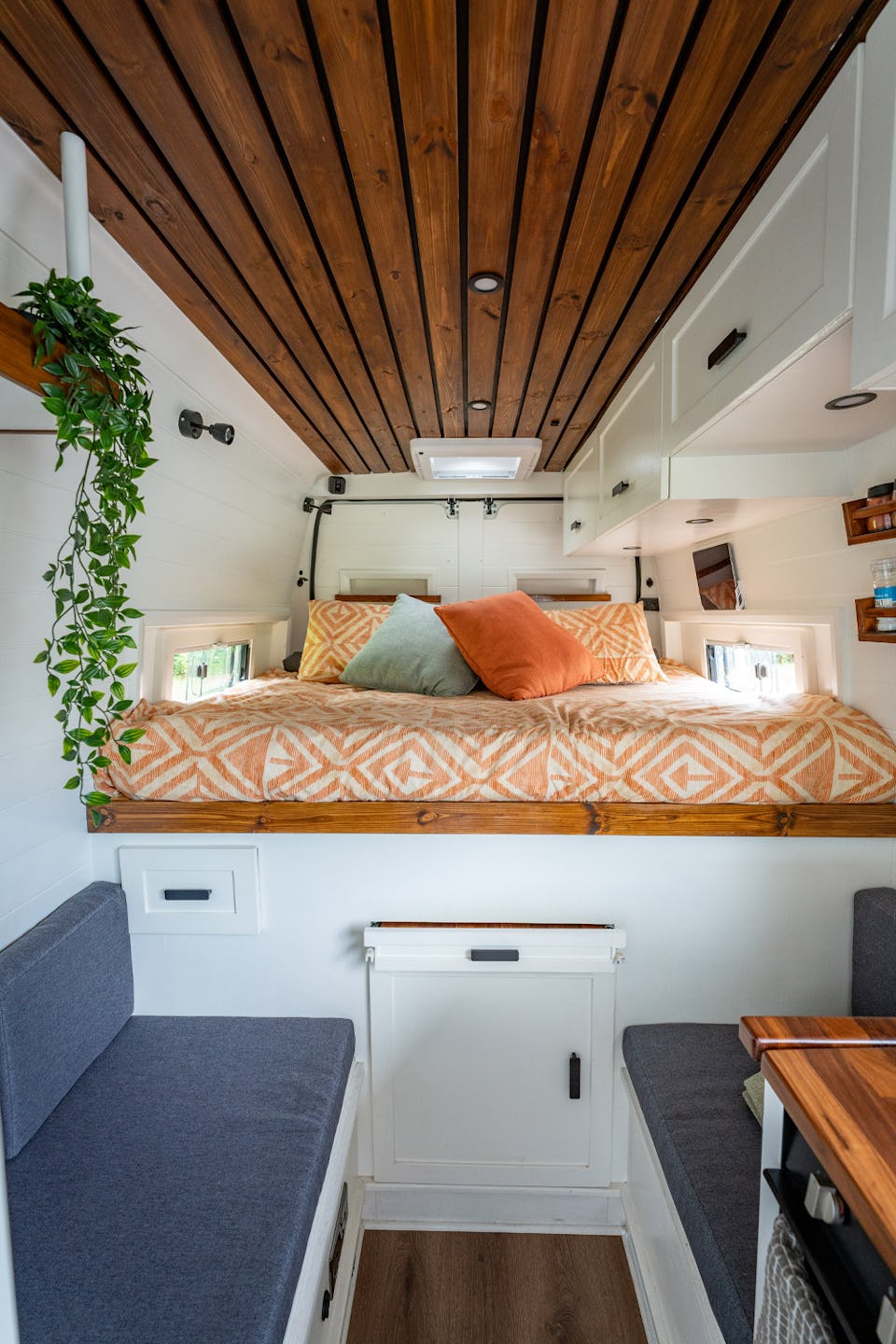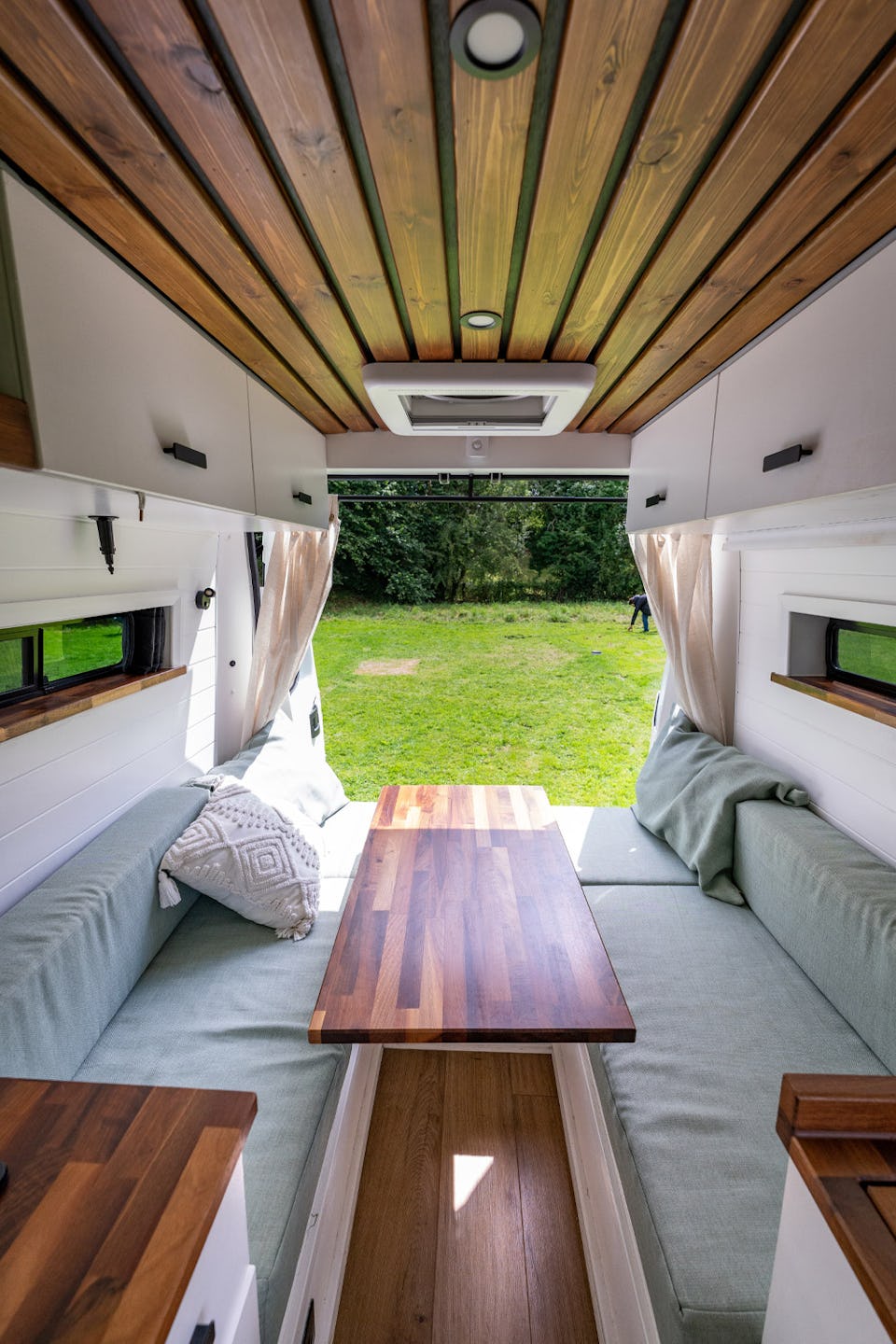 The pros and cons of a dinette bed system
Pros:
- The larger seating area allows for more space to sit and dine, great if you are travelling as a family or just like to host.
- The large table is great for productivity, whether you work from the road or love playing games you'll appreciate the extra surface area.
- Because the seating is normally much lower than a bed you'll end up with tonnes of headroom whilst you sleep. This is great if you also have overhead cabinets on both sides of the van and don't want to feel claustrophobic.
- Flexibility between layouts even with a dinette, Seb has U shape seating which allows for more space to lounge during the day. U shape seating also allows you to have a small cupboard/garage underneath the back seat.
- Benefit from great views anywhere you park with the back doors open.
Cons:
- You'll only have the space available under your seats as storage. Considering you might want space for a heater system and an electrical setup, those both take a lot of space.
- Unless making the bed is 'your thing' you might not enjoy having to strip and convert the bed between day and night mode twice a day. Consider you will also need to store that bedding somewhere when it's not in use.
- Your sofa cushions are your mattress. Sleeping on multiple cushions pushed together is never going to be as supportive or comfy as a fixed bed. Bianca and Giulio have 6-inch foam for their setup, 2 of which are memory foam.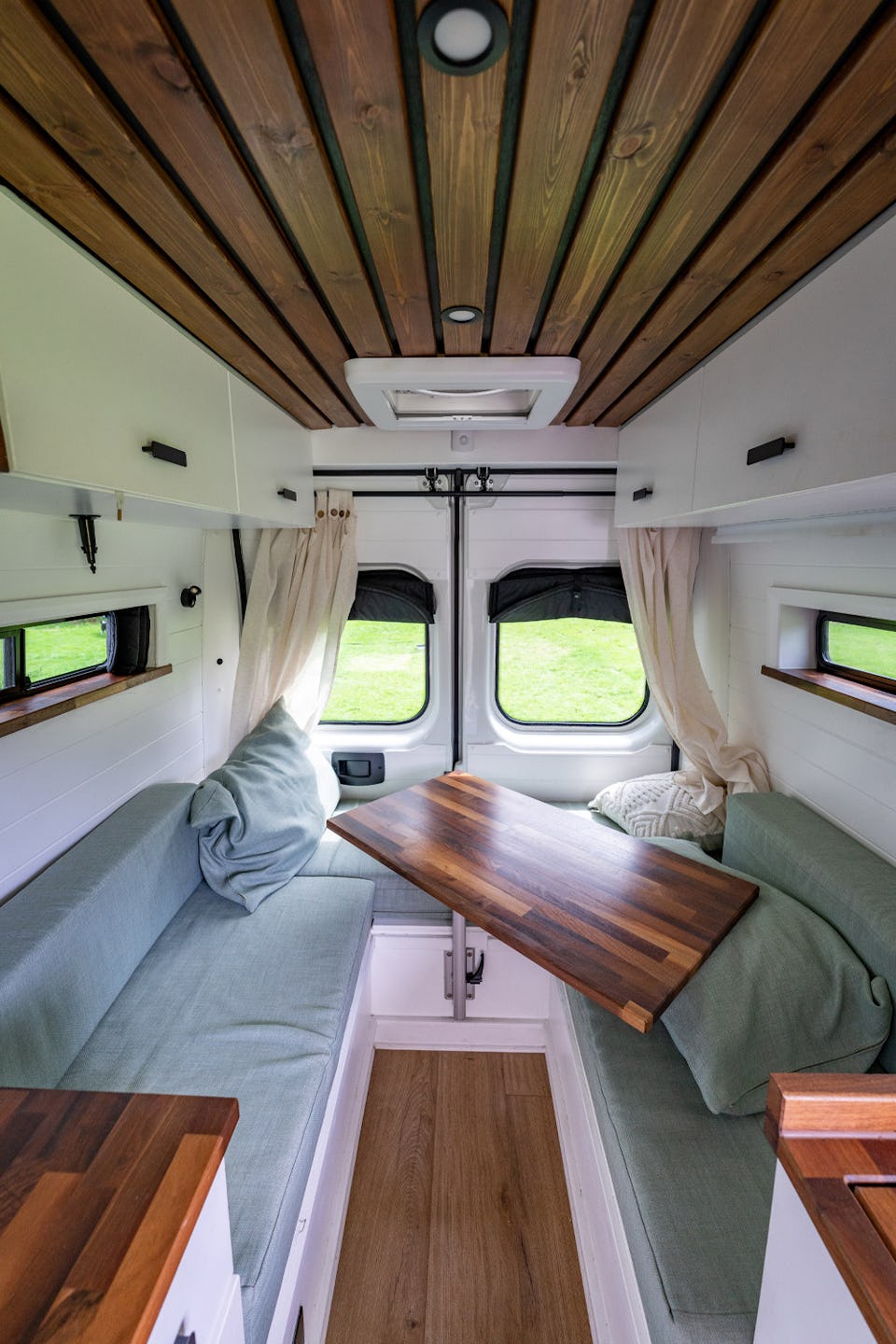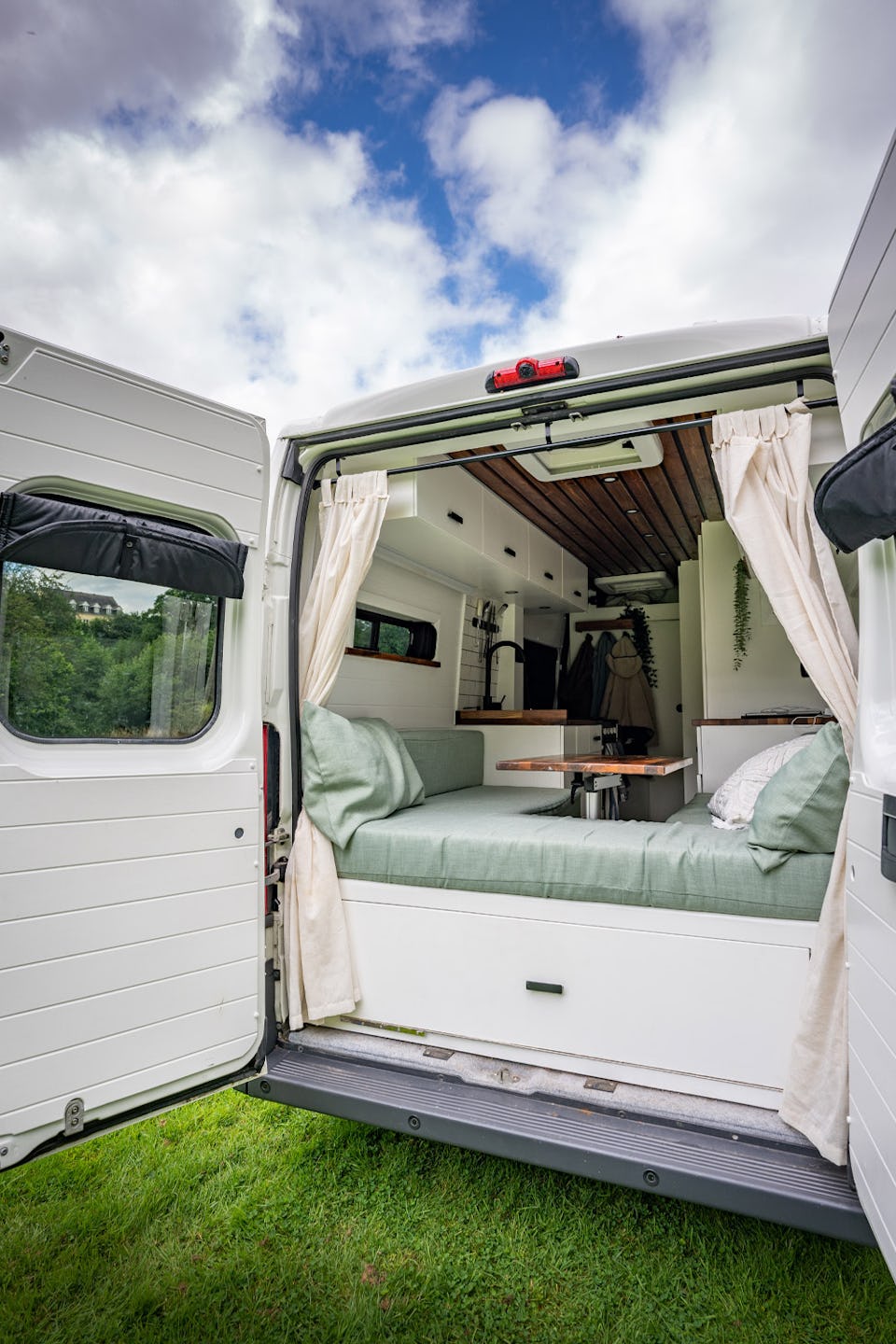 The pros and cons of a fixed bed system
Pros:
- The ability to have loads of storage. Depending on how tall your van is and how high you make your bed you can create a large garage underneath. We often travel with kitesurfing gear, SUPs, a kayak, a paraglider and our camping equipment all in the back.
- Jump into bed at any moment. Sometimes you just need to get under a duvet, and it's always there waiting for you with a fixed bed.
- Having a fixed bed allows you to construct a bed that will match any hotel. Bed slats and a full-size mattress are no issues in this layout.
- Because your bed is always made, you don't need to consider where to store your bedding during the day.
Cons:
- Depending on the rest of your layout you could end up with less space for hosting guests.
- Fixed bed layouts normally have smaller tables when it comes to dining and productivity.
- If you have a shorter van you will encroach into your ceiling space with every cm you add for your garage. In our H3 we can store items as large as a bike underneath but can also sit up in bed. This maybe more of an issue in a H2.